Research Interests
Biblical Studies: Old Testament, New Testament
Personal website
http://www.appstate.edu/~dukerk/
Publications
Articles
"Understanding and Translating Proverbs 25.27: Weighing the 'Honorable' Options," The Bible Translator 72/3 (2021) 331-350.
"Hope for the Future of New Testament Theology,"
Religions 12/11 (2021) https://www.mdpi.com/2077-1444/12/11/975/htm
"The Idiom of 'Weeping and Gnashing of Teeth' in the Gospels: A Funerary Formula" Perspectives in Religious Studies 47/3 (2020) 283–98.
"Gathercole's Defending Substitution: Why I Am Unconvinced and Concerned," The Expository Times 129.10 (2018) 458-465.
"Eternal Torment or Destruction? Interpreting Final Judgment Texts," Evangelical Quarterly 88.3 (2016/17) 237-58.
"Visiting the Guilt of the Fathers on the Children: Is God Immoral?", Evangelical Quarterly 87.4 (Oct. 2015) 347-365.
"Biblical Studies and Metacognitive Reading Skills," in Teaching the Bible in the Liberal Arts Classroom, Jane S. Webster and Glenn S. Holland (eds.), Sheffield, UK: Sheffield Phoenix, 2012. Pp. 233-244.
"Form and Meaning: Multi-Layered Balanced Thought Structures in Psalm 24:4," Tyndale Bulletin 62.2 (2011) 215-32.
"Teaching Teachers to Teach Old Testament Narratives," Karlsruher Pädagogische Beiträge 74: Lesen und Verstehen (2010): 33-66.
"Recent Research in Chronicles," Currents in Biblical Research, 8/1 (Sept. 2009): 10-50.
"Introduction and Notes to Esther," Wesley Study Bible. Nashville, Abingdon, 2009.
"The Ethical Appeal of the Chronicler." Rhetoric, Ethic, and Moral Persuasion in Biblical Discourse: Essays from the 2002 Heidelberg Conference. Edited by T. H. Olbricht and A. Eriksson. London: T&T Clark International, 2005. Pp. 33-51.
"Chronicles, 1 & 2." Dictionary of the Old Testament: Historical Books. Edited by W.T. Arnold and H.G.M. Williamson. Downers Grove, Illinois: Inter Varsity Press, 2005. Pp 161-181.
"Israelite Priests, Priesthood." Pages 646-655 in Dictionary of the Old Testament: Pentateuch. Edited by T. Desmond Alexander and David W. Baker. Downers Grove, Illinois: Inravarsity Press, 2003.
"The Strategic Use of Enthymeme and Example on the Argumentation of the Books of the Chronicles." Pages 127-40 in Rhetorical Argumentation in Biblical Texts: Essays from the Lund 2000 Conference. Edited by Anders Eriksson, Thomas H. Olbricht, and Walter Ubelacker. Emory Studies for Early Christianity. Edited by Vernon Robbins. Harrisburg, PA: Trinity Press International, 2002.
"A Rhetorical Approach to Appreciating the Books of Chronicles." In The Chronicler as Author: Studies in Text and Texture. Edited by M. Patrick Graham and Steven L. McKenzie. JSOT Supplement Series 263. Sheffield: Sheffield Press, 1999. Pp. 100-135.
"Teaching Genre Awareness in Introductory Bible Courses." In "Spotlight on Teaching." Edited by J. Bradley Chance. Pp. 5-7 [3600 word-length]. The Religious Studies News, 13/4 (November, 1998).
"Chronicles, Theology of," "Hospitality," "Incest." Evangelical Dictionary of Biblical Theology. Edited by Walter A. Elwell. Grand Rapids: Baker, 1996.
"A Model for a Theology of Biblical Historical Narratives: Proposed and Demonstrated with the Books of Chronicles," History and Interpretation: Essays in Honour of John H. Hayes. Ed. M. Patrick Graham, William P. Brown, and Jeffrey K. Kuan. JSOTSup, 173. Sheffield: Sheffield Academic Press, 1993.
"Hachmoni," "Heldai," "Helez," "Ikkesh," "Ira," "Ithmah," "Izrahite," "Jashobeam," "Maharai," "Mecherathite," "Mezobaite," "Mithnite," "Pelonite, The," "Shamhuth," "Sibbecai." Anchor Bible Dictionary. Garden City, N.Y.: Doubleday & Co., 1992
"The Persuasive Appeal of the Chronicler: A Rhetorical Analysis." Journal for the Study of the Old Testament Supplement Series, vol. 88 and Bible and Literature Series, vol. 25. Sheffield: Almond, 1990.
"Punishment or Restoration? Another Look at the Levites of Ezekiel 44:6-16." Journal for the Study of the Old Testament 40 (1988): 61-81.
"The Portion of the Levite: Another Reading of Deuteronomy 18:6-8." Journal of Biblical Literature 106/2 (1987): 193-201.
Book Reviews
Paul K. Hooker, First and Second Chronicles. Westminister Bible Companion. Louisville: Westiminister John Knox, 2001. Published in Ashland Theological Journal, 35 (2003): pp. 122-123.
Steven S. Tuell, First and Second Chronicles. Interpretation. Louisville: John Knox, 2001. Published in Ashland Theological Journal, 35 (2003) : pp. 123-124.
Jonathan E. Dyck, The Theocratic Ideology of the Chronicler. Biblical Interpretation Series, 33. Leiden/Boston: Brill, 1998. Published in Ashland Theological Journal, 33 (2001) : pp. 98-100.
Martin J. Selman, 1 Chronicles: An Introduction and Commentary and 2 Chronicles: A Commentary. Tyndale Old Testament Commentaries. Leicester/Downers Grove: InterVarsity, 1994. Two volumes. Published in Ashland Theological Journal 30 (1998): 111-113.
D. Brent Sandy and Ronald L. Giese, Jr., Cracking Old Testament Codes: A Guide to Interpreting the Literary Genres of the Old Testament, in Ashland Theological Journal 29 (1997): 133-34.
Mark A. Throntveit, Ezra-Nehemiah. Interpretation: A Bible Commentary for Teaching and Preaching. Louisville: John Knox Press, 1992. Published in Interpretation 48/1 (Jan. 1994): 88,90.
Simon J. DeVries, First and Second Chronicles. Forms of the Old Testament Literature, 11. Grand Rapids: Eerdmans, 1989. Published in Critical Review of Books in Religion (1991): 128-30.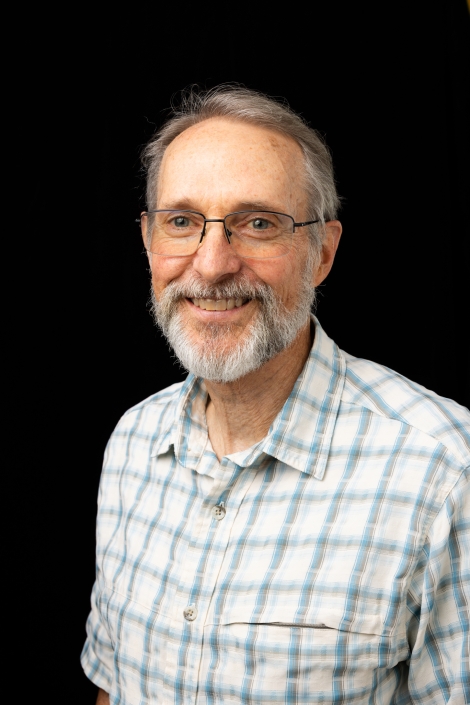 Title:

Professor Emeritus of Religious Studies
Department:

Philosophy and Religion

Email address: Email me

Phone: (828) 262-3091
Office address
I. G. Greer Hall 107